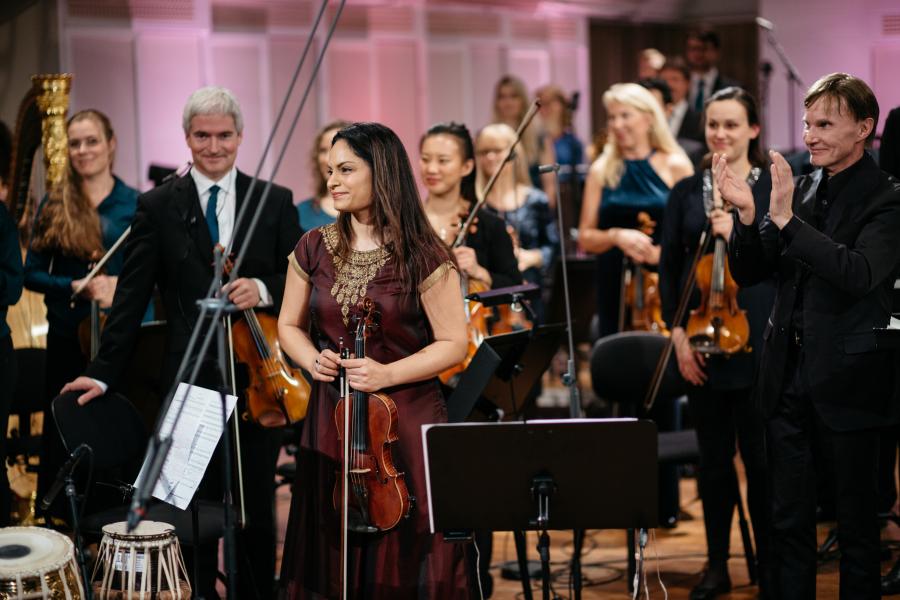 Harpreet Bansal was trained in the North Indian classical tradition from her earliest childhood by her father and first guru, Harbhajan Singh Bansal. She went on to complete a bachelor's degree in Western classical violin at the Norwegian State Academy of Music. She later became the first student to qualify for a Master's degree in Indian music at the same institution, under the tuition of renowned sitarist Ustad Ashraf Sharif Khan Poonchwala. She has also studied intensively with the great Indian virtuoso of the violin, Dr. L. Subramaniam.
Bansal has worked extensively both as soloist, ensemble leader and ensemble musician in a wide range of styles, collaborating with performers like Javid Afsari Rad, Sukhvinder Singh Namdhari, Bugge Wesseltoft, Nils-Olav Johansen, Trygve Seim, Svante Henryson, Unni Løvlid, Rolf-Erik Nystrøm a.o. She is the leader of Bansal Trio/Bansal Band, and member of Rumi Ensemble and Combonations. She has given solo concerts in England, India, Germany, Czech Republic, Sweden, Denmark, Belgium, Holland, Spain, Canada, Taiwan, Poland a.o.
Bansal has toured regularly for Concerts Norway since 2003. She contributes on numerous recordings, and released her debut album "Chandra" on the Jazzland Label in 2015.
Harpreet has received numerous prestigious grants and scholarships, among those the Norwegian State's 2-year artist grant in 2012, the Composer's Remuneration Fund's 1-year artist grant in 2017, and the Norwegian Art Council's Ensemble Grant in 2014 and 2017. She is also supported by the Fund for Performing Artists and the Musician's Union.
Bansal has held several workshops at the Norwegian Academy of Music, and has visited the Arctic Conservatory as a guest teacher. She travels to India regularly to hold workshops and play concerts under the direction of Dr. L. Subramaniam's SaPa Academy in Bangalore.